What is Rosehip Seed Oil? – Pure Luxe Apothecary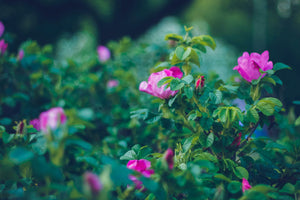 I've been swooning over this gorgeous oil since my first encounter with it. 
When I lived in London many moons ago, natural healthcare and foodie shops were among my favorite haunts. On one outing in Camden Town, I purchased a tiny bottle of pure rosehip seed oil. After seeing and feeling it firsthand, I was hooked.
So what is it, actually?
Image from: New Directions Aromatics

What does cold-pressed mean?
Cold-pressed refers to how an oil is extracted from plant material. It means no heat or chemicals are used in the process, which keeps the delicate oil structure damage-free.
The oil that results from this pressing process of the seeds is naturally light amber to reddish orange. A beautiful, vibrant color. 
Does it smell like roses?
Most of us think of a distinct floral fragrance when we hear the word "rose." Both rose essential oil and rose hydrosol (floral water) are made from the petals of the blooms, which is where those particular aromatic compounds are in the plant. And they smell as we expect - like roses.
But the seeds from the hips, and the oil pressed from them, contain different compounds and oils than the petals. Rosehip seed oil has a fresh, nutty aroma - and I think of it as having a bit of a soft tang, for lack of a better word. It's subtle and lovely. But it definitely doesn't smell like a typical rose flower. 


What areas of the world does it come from?
Rosa canina (dog-rose): Native to various world regions including Asia and Southern Africa. Harvested primarily in South Africa.

Rosa rubiginosa or Rosa mosqueta (sweet briar rose): Native to the Southern Andes region of South America. Harvested primarily in Chile.
How long has it been used?
It's thought that ancient Egyptians, Mayans, and Native Americans - all of whom used plant oils to nourish and heal the skin - used it thousands of years ago for the same reasons we're using it today: to help regenerate and hydrate the skin, lessen wrinkles, and smooth out discoloration. 
There's also a long history of culinary and medicinal use of this oil too. Fun fact: Rose hips have 10 times more vitamin C than an equal amount of raw oranges! That's some nutrient star-power.
What are the benefits of using this oil in natural skincare?
Because of it's valuable botanical properties, rosehip seed oil is perfect for skin formulations. It's often been referred to as the Oil of Youth, but I like to think it's better named 'Oil of Vibrant, Healthy Skin.' 
Which Pure Luxe formulas feature rosehips?
Rosehip seed oil is a key player in this product. Along with the other ingredients, this gorgeous blend helps mitigate the effects of aging/sun/time and hydrates your skin beautifully. Without leaving you feeling oily, sticky, or heavy. I love how it gives skin a healthy, touchable glow. This light oil blend is a bestseller and a favorite for daily use.  
RICH REGENERATION FACE CREME
This velvety balm uses rosehip seed oil in its nutrient-packed formula to give the skin extra nourishment and hydration. Particularly useful for nighttime repair. I use this on any dry spots, day or night. And I often use a small amount around my eyes for extra protection against wind and weather. Plus, it gives a smooth base for applying makeup around the eyes, which can pull and cake if the delicate skin is too dry. 
It made sense to create a product based around rosehip seed oil to help with skin repair following surgical incisions. I originally blended this serum for a friend who was having knee replacement surgery, as a skin treatment to help promote cellular repair, reduce inflammation and prevent infection.   
But the formula is equally useful for treating everyday scrapes and cuts, sunburns, and even radiation burns. I also rotate this serum into my daily face care routine. It's great after a little too much sun or to add extra hydration on dry days.  
Rosehip seed powder is also a powerful healing ingredient. I incorporated it into a very gentle exfoliating clay to deliver vitamin C and antioxidants to your skin as you exfoliate. I love using this clay before moisturizing. So dreamy. 
Useful tip: Keep this bottle in your shower and do your exfoliating there. It makes cleanup a breeze... Pour a small amount into your palm, add a few drops of water to create a paste, massage the paste over your skin in gentle circular motions, then wash off under the stream of the shower. 
How will you add Rosehip Seed Oil to your skincare rituals?
Whatever ways you explore and enjoy rosehip seed oil, I hope you feel all the ancient wisdom and beneficial qualities that come in each drop. 
I believe in keeping things simple, yet sophisticated. Using beautifully effective, natural ingredients, I create luxurious skincare blends for everyday rituals. In every small batch of Pure Luxe Apothecary products, you'll find a fusion of pure, plant-based ingredients, thoughtfulness, and intention. These modern and minimalist remedies are rooted in health and well-being, because to me, beauty begins within.
This content was originally published here.