Vetiver Diffuser Blends - 10 Relaxing Essential Oil Recipes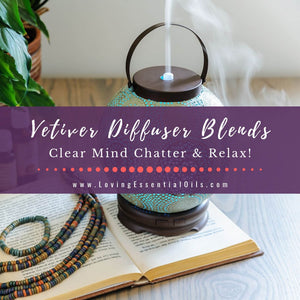 Vetiver essential oil offers a strong and earthy aroma that is perfect for deep relaxation. Try these Vetiver Diffuser Blends to clear mind chatter and improve sleep.
Traditionally, vetiver was used to help balance and ground the energy of those who were experiencing anxiety or depression. It can also be an excellent option for those with insomnia, as it helps promote relaxation and sleep at night.
Vetiver essential oil blends well with other oils like lavender, cypress, cedarwood, patchouli and sandalwood to create a more complete aromatherapy experience. They mix together well and create positive moods. These combinations are known as synergistic blends. 
Essential Oil Diffusers Guide
How to Aromatherapy Diffusing Guide with 200+ Diffuser Blends by Jennifer Lane, Loving Essential Oils Owner & Certified Aromatherapist:
Vetiver Essential Oil Benefits
Vetiver is a thick amber oil that comes from a tropical grass well known for preventing soil erosion. It is a powerful and grounding plant. It is native to Asia, grows about 4 to 8 feet in height, and produces large clusters of underground roots that are aromatic.
The scent strengthens memories associated with good times and relaxes us during stressful periods when we need it most. Here are more benefits of vetiver essential oil:
Vetiveria zizanioides, OK for Kids 2+
Need Vetiver essential oil?
Vetiver Diffuser Blends
I have been crafting essential oil blends for years and I am so excited to share my vetiver diffuser recipes with you!
Add one of the essential oil recipes below to diffuser with recommended water for your diffuser tank. I like to use a 100-200 ml water tank diffuser but you can use whatever size you prefer.
 1. Exhale
Aromatherapy is one of the most popular methods for easing and calming your mind. Vetiver oil, in particular, can reduce stress while boosting mood, which makes it a perfect choice to calm down before bed or unwind after work. Add it to your diffuser with orange for a wonderful oil blend.
 2. Sweet Clean Focus
This essential oil blend was created to help those who are feeling overwhelmed. It helps with feelings of stress and anxiety, as well as everyday life struggles like work and relationships.
 3. Peace Out
Essential oils can be used to address many different physical ailments or as a natural remedy for mental/emotional issues such as anxiety, depression, ADHD, etc. This blend is perfect for relaxing and soothes anxiety. 
 4. Pre-Dawn Musing
The scent of vetiver essential oil is reminiscent of freshly-mown grass, and it has a calming effect. It can also help you focus, whether you're at home, work, or school. Diffuse this vetiver oil blend so you can calm and focus your mind and body.
 5. Serene Spa
This spa diffuser blend with vetiver has a calming effect on your mind and body when you inhale it or use it topically. It's a favorite, it smells amazing!
 6.  Soft Evening Rain
This vetiver essential oil blend has been helping me to relax after a long day. It is especially good for people who have trouble relaxing after a stressful day because the scent helps them calm down in the evening.
 7. Anxious Away
Do you experience anxiety? Essential oils have been a natural and effective way to help with this. It is important to understand that the best blend of essential oil for anxiety can be different for every person. These anti-anxiety oils in this vetiver diffuser recipe work together by supporting your mental state and promoting relaxation through aromatherapy which acts as a powerful stress reliever.
 8. Out Cold Diffuser Blend
Do you struggle with sleeplessness and worry? Maybe it's time to try the vetiver essential oil blend, it can help and is perfect for your busy life. It provides a simple, natural way to reduce anxiety and get some much needed sleep.
 9. Spring Rain
These are all great oils for purifying the air and cchanging the scent of a room. Just how rain is cleansing to the earth, let this diffuser recipe with vetiver, lemon, and wintergreen be cleansing to your home.
 10. Peaceful Slumber
Within minutes of diffusing this essential oil blend you could be calming down and falling asleep fast. I will soothe any anxiety or stress that may have arisen during the day before bedtime. Try this vetiver oil diffuser blend tonight for improved sleep.
Get our Essential Oil Diffusers Master Guide - How to Diffusing Guide with 200+ Diffuser Blends:
This content was originally published here.