The Best Insect Repellent Spray - Best for Use in Farms!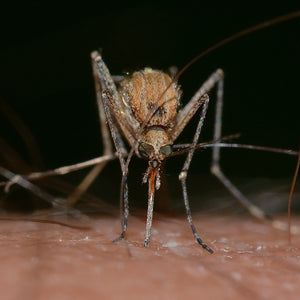 Every weekend, my family goes to Go Green Organic Farm in Kam Sheung Road. In fact, my husband has been interviewed by South China Morning Post about our weekly organic farming activity. And we're proud to say that we are one of the first tenants in this farm. We love farming - and my daughter loves getting dirty and play with the farm animal.
The insects love me, my daughter, and my son (they avoid my husband, though). And we always end up getting bitten by mosquitoes and sandflies. And it's extremely itchy! We can't stop scratching! I'm avoiding anything with DEET. We tried the anti-mosquito patches and those bracelets, and they didn't work for us.
So I decided to make The Best Insect Repellent Spray - one that works with sandflies too!
The Best Insect Repellent Spray
Ingredients:
50 mL carrier oil (my suggestion: Hope 100% Organic Argan Oil - easily absorbed and for all skin types), or Extra Virgin Olive Oil
 7 drops of organic lemongrass essential oil
12 drops of organic rosemary essential oil
10 drops of organic peppermint essential oil
10 drops of organic cedarwood atlas essential oil
Directions:
Mix all ingredients in a spray bottle. You can also use the dropper bottle. Apply liberally on skin. Reapply every four hours.
Tip:
To repel ants, moths, and cockroaches at home - stick self-adhesive felt pads (the ones used for chair legs for them to glide smoothly) around the source of the insects and their likely paths.
UPDATE: Here's a review from one of our lovely customers