Spearmint Essential Oil Foot Soak Recipe - Invigorating Foot Bath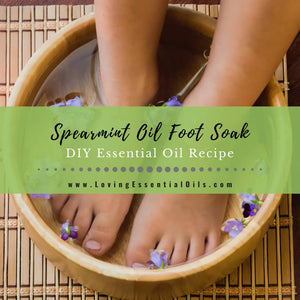 Your feet deserve some pampering. Tired and sore feet will benefit from soaking in a soothing bath. Give them an at home spa treatment with this invigorating homemade spearmint essential oil foot soak recipe.
Spearmint oil has an energizing and invigorating aroma. It encourages a sense of focus while uplifting mood. It also has cleansing properties so it is a great oil for an all-natural essential oil foot soak recipe.
Epsom salt is a wonderful soaking solution. It is perfect if you need a foot soak for sore feet. Epsom salt can help relax muscles, reduce stress levels, and soften the skin.
Foot soaks are a great way to unwind after a long day at work. You can read, watch TV, or just close your eyes and relax while your feet are soaking. Add this essential oil foot soak recipe with our natural face mask recipe and enjoy an at-home aromatherapy spa experience!
Essential Oils For Soaking Feet
The minty aroma of spearmint essential oil () is refreshing and invigorating.
Here are some other essential oils you may want to try in the foot bath recipe:
Tea Tree Essential Oil
Lavender Essential Oil
Peppermint Essential Oil
Where to Buy Spearmint Essential Oil?
Don't have a bottle of Spearmint? Here are some favorite brands:
DIY Spearmint Foot Soak
1. Mix Epsom Salt, carrier oil, and spearmint oil together. For a carrier oil you can use fractionated coconut oil, jojoba oil, or whatever oil you desire.
2. Add foot soak blend to a large basin of hot water, stir and swirl the water around.
3. Immerse feet and soak for 15-20 minutes, as desired or until the water becomes tepid.
For additional skin care, try using a pumice stone for exfoliating calluses and dry skin from feet at the end of your homemade foot soak.
Where to Buy Foot Soak Basin:
Free Printable DIY Recipe Sheet
Want a printable recipe sheet for this spearmint essential oil foot bath? Download it here. Be sure to share this blog post on your favorite social so others can enjoy this foot pampering recipe too!
Share On Pinterest
More DIY Essential Oil Recipes
It is fun using essential oils for DIY, here are more ideas to try:
This content was originally published here.