Rosehip Oil - Great for pimple scars!
February 06, 2017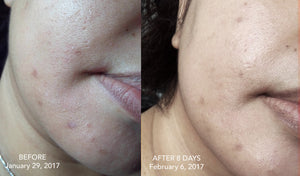 OK, I  am one of those not blessed with resistant skin, and sometime in January, I had a major breakout testing market samples (yes, part of my job). It's good that I have Rosehip seed oil to the rescue!!!
I happen to take a photo of my face when I had a major breakout. While talking to my sister, who lives miles away, she asked if I have a photo after using rosehip seed oil as I told her how good it is. After seeing the before and after (8 days) photos, she encouraged me to post a photo here. :-) I'm a bit shy so the photo is cropped a lot, but you'll definitely see the difference.
What is my skincare routine:
1. Wash with a cream-based cleanser.
2. Tone with rose hydrosol - not the commercial "rose water" that is basically water, emulsifier, and rose-type perfume (not even an essential oil). This will soon be available in our shop and I will update this blog with the link. And I probably have to write something about this in the future.
3. Apply 4 drops of HOPE 100% organic rosehip seed oil.
4. Light moisturizer.
5. Sunscreen.
I also exfoliate twice a week. I noticed that my skin regenerates faster with continued use of HOPE 100% organic rosehip seed oil.
Hope this helps!