Orange Diffuser Blends - 10 Blissful Essential Oil Recipes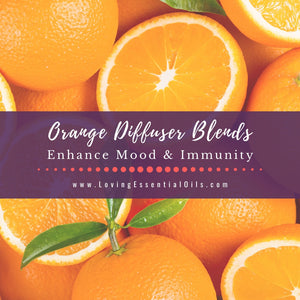 The fresh and fruity scent of orange essential oil invigorates and sharpens the senses. When you feel down or overwhelmed, it can be difficult to see the positives in life.  Let these orange diffuser blends help you feel happy and relaxed.
Orange essential oil is well known for its energizing, immune-stimulating, antibacterial, and cleansing properties. You can feel bright and energized just by adding it to your aromatherapy diffuser, personal inhaler, or a diffuser necklace!
Orange essential oil promotes positive energy while providing a soothing effect on the mind and body. Diffusing orange essential oil will relax you as it fills your space with light citrus fragrance--a perfect way to start off any day!
Benefits of Diffusing Orange Essential Oil
Diffuse orange essential oil at home or in your work-space to create a pleasant atmosphere. Orange has a distinct fragrance that will instantly remind you of freshly sliced oranges.
The scent also boosts moods and can repel insects such as mosquitoes which is great if you're traveling somewhere where there are plenty of bugs!
Pure sweet orange essential oil is made from orange peels. It can be used in DIY cleaning products due to its natural antiseptic properties. Here are some benefits of diffusing orange oil:
Learn more about orange essential oil here.
Now let's talk about how to diffuse it.
Orange Essential Oil Diffuser Blends
By inhaling or diffusing orange essential oil, you can enhance and uplift the mind and body. Add essential oil recipes below to aromatherapy diffuser with recommended water for your diffuser tank. I like to use a 100-200 ml water tank diffuser but you can use whatever size you prefer. Adjust the drops if you desire.
 1. Hello, Sunshine
Orange essential oil is good for relieving headaches, easing joint pain, and reducing inflammation in the body. Try some aromatherapy goodness with this sunshine essential oil blend.
 2. North Star
Orange essential oil is a great way to help with sleep. It can be used for aromatherapy, massage or diffused into the air. Lavender and roman chamomile are two other oils that have been shown to help people sleep better. There are many health benefits of using orange essential oil like decreasing anxiety. If you're looking for an easy way to improve your sleep quality, try out this orange and lavender essential oil recipe for bedtime.
 3. Down Time
Orange essential oil has a fresh and sweet citrus aroma that can help promote relaxation, relieve stress, and boost immunity. Try this diffuser blend with additional citrus oils!
 4. Relax and Peace
There are many reasons we need relaxation. Stress is a major factor in contributing to bad health, and it can lead to numerous problems like high blood pressure, headaches, weight gain, sleep disorders and more. However, there are also some natural ways you can combat stress such as using orange essential oil for relaxation. See how this amazing citrus scent combination combats stress naturally without any side effects!
 5. Spicy Orange Diffuser Blend
Orange Essential Oil has always been valued not only for its delightful aroma but also because of its therapeutic properties which promote calmness and relieve tension. The fragrance of oranges permeates the air with a fresh sweet scent that promotes comfort, try it with some spicy oils to really perk up the citrusy aroma.
 6. Motivate Me Monday Blend
One of the best ways to get motivated is by using essential oils. Orange essential oil has a sweet aroma that helps boost energy levels and provide clarity in order to concentrate on tasks at hand. Combine orange with cinnamon and rosemary oil for a real stimulating diffuser blend.
 7. Sanctuary Diffuser Recipe
The scent of orange essential oil can help people feel more productive, happy, and relaxed. Orange essential oil also helps relieve stress, anxiety, depression and fatigue. Enjoy using this essential oil recipe for calming the environment and making it your own sanctuary.
 8. Feel Good Blend
Orange essential oil is a great way to help relieve stress. The scent of orange invokes feelings of happiness and positive, which can be helpful for those who are feeling stressed or negative. Orange essential oil has been shown to have anti-depressant properties as well. Try it out in this feel good essential oil blend.
 9. Orange Harvest
This orange diffuser recipe offers a natural way for you to deal with the stress in your life. Aromatherapy can be used on a daily basis for cleansing the air and making your space inviting. Enjoy the woody citrus aroma of this oil blend.
 10. Sweet Pine
Pine and orange essential oils are both very energizing for the mind, body and spirit. When it comes to aromatherapy, studies have shown that these two scents can be used in a variety of ways to promote relaxation or concentration depending on your needs at the moment. Pine is known as an air purifier with antiseptic properties which make it perfect for use around your home. Orange and pine are also found to be mood elevators. Try this uplifting essential oil diffuser blend!
Where to Buy Orange Essential Oil?
Don't have a bottle of Orange oil? Here are some favorite brands:
Free Printable Orange Diffuser Recipes Sheet
No email required! We hope you love this free printable and kindly ask that you share this page on your favorite social media sites like Pinterest, Twitter, Facebook or Instagram so others can enjoy as well.
Safety Guidelines
Diffuse 30 minutes to 1 hour at a time, read more about how long to diffuse oils.
It is best not to apply undiluted essential oils onto the skin. When using essential oils topically on the skin, be sure to dilute with a carrier oil like jojoba oil or sweet almond oil.
Using essential oils can improve a person's emotional, physical, and mental state. For best results, make sure you use pure essential oils and learn how to use them properly.
People can have different responses to essential oils, you may find what works for one person, doesn't work for you. You can learn more here about what to do when essential oils don't work.
Essential Oil Diffusers Guide
How to Aromatherapy Diffusing Guide with 200+ Diffuser Blends by Jennifer Lane, Loving Essential Oils Owner & Certified Aromatherapist:
Share on Pinterest
This content was originally published here.