Moringa Oil for Skin: How It Works and the Best Products for 2023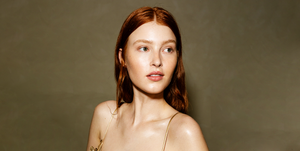 Put a finger up if you've bought into the buzz of a new skincare ingredient that didn't live up to the hype. Yep, us too. It seems like every day a trendy ingredient that promises to be some miracle-working superhero arrives on the beauty scene…and then fails to deliver on the results. That said, there is *one* trending ingredient that we're loving, and unlike many of its contemporaries, it actually makes good on its impressive claims. Meet moringa oil.
Moringa oil is a potent oil that's extracted from the seeds of, you guessed it, the moringa tree. The ingredient has been used in African and South Asian communities for centuries, but it has recently garnered a reputation as an all-natural multitasker thanks to its long list of skin nourishing, smoothing, and brightening benefits. And while moringa oil can be used be used as a part of your body-care routine or as a nourishing hair oil, our experts (shout out to licensed aesthetician Tammy Fender and board-certified dermatologists Ava Shamban, MD, and Marissa Garshick, MD) love it as a skincare treatment. Read on for everything you need to know about moringa oil for skin, including exactly it works, how to use it in your skincare routine, the best products to try it in, and more.
What does moringa oil do for your skin?
Moringa oil is one of those do-it-all ingredients that can used by just about everyone. It has both antibacterial and anti-fungal properties and is great at reducing inflammation and calming skin. Moringa oil is also high in antioxidants, so it's able to repair the skin and protect it from environmental damage too. And because moringa oil is rich in fatty acids like oleic acid, it supports our skin's ability to retain moisture and stop trans-epidermal water loss, says Dr. Shamban. "It serves as a support booster for our skin barrier and aids in wound healing."
How do I use moringa oil on my face?
Moringa oil can be applied to the face on its own or layered with other products, so it can be easily incorporated into your existing lineup. Dr. Shamban recommends washing your face first, then applying your toner and serum and layering moringa face oil on top before applying sunscreen in the morning. And while either (or both) morning or night application work, Dr. Garshick prefers the latter. "I tell my patients to apply moringa oil to the face as a last step in an evening skincare routine to help lock in moisture," she says.
4 top-rated moringa oils to try:
HAN Skincare Cosmetics Restorative Face Oil
Does moringa oil lighten skin?
Although moringa oil can help brighten the skin, it is not actually a skin lightener, says Dr. Garshick. Moringa oil is rich in antioxidant, like vitamin C, which can help give your skin a more even-toned glow, Dr. Garshick explains. Basically, moringa oil can help reverse existing damage (like dark spots from the sun or old breakouts) but does not actually affect the melanin production in the skin, like tranexamic acid or kojic acid would.
Does moringa oil help with wrinkes?
Moringa contains an absolute wealth of vitamins and minerals, including vitamin a, which can help boost collagen and elastin production, says Fender. "This can improve skin smoothness and firmness and reverse signs of aging like fine lines and wrinkles." On top of that, moringa oil will keep your skin hydrated and plump, which can temporarily soften the appearance of fine lines and wrinkles as well.
Does moringa oil cause breakouts?
We often associate oils with whiteheads, blackheads, and clogged pores, but that couldn't be further from the truth with moringa oil. "Moringa oil is a lightweight oil that mimics your skin's natural sebum, so it won't clog pores or sit on top of the skin and make your face feel all greasy, says Dr. Garshick. "In fact, moringa oil may actually help with breakouts, as it is both anti-inflammatory and antimicrobial."
When used in a cleansing oil, moringa oil can even help prevent new breakouts from happening, says Fender. "The amazing skin-cleansing properties of moringa help to remove dirt and build-up that gets stuck in pores leading to acne," says Fender.
Can you use moringa oil on your face everyday?
With moringa oil's long list of benefits, it only makes sense that you'd want to use it every single day, and we're happy to report you can. "Moringa can be used daily, and for most if not all skin types, it can be used continuously without any issue," Dr. Shamban says. "It is good for daily use on both those with acne-prone or oily skin and those with a dry skin type or who are dehydrated, which makes it a super versatile ingredient."
Whether you use moringa oil every day or once in a blue moon, though, Fender says there's one thing to always keep in mind. "The key is to let the oil penetrate into the skin by massaging it in for a few minutes," she advises.
The takeaway:
Whether you have dry skin and are looking for some extra nourishment or you're hoping to fend off breakouts while reducing your acne scars, moringa oil can play an important part in your skincare routine. With antibacterial and anti-fungal properties, plus a slew of important vitamins, minerals, fats, and antioxidants, it can help address a variety of skin concerns and issues and protect skin from environmental damage. As a natural, plant-derived ingredient, moringa oil can be used daily and integrated into your existing skincare routine without any change or disruption.

Meet the experts:
Why trust Cosmopolitan?
Gabby Shacknai is a New York City-based journalist with years of experience researching, writing, and editing beauty and wellness stories. Gabby is an authority in all skincare categories, but is an expert when it comes to moringa oil for skin. She works with the industry's top dermatologists and aestheticians to assess new moringa oil treatments and products.
This content was originally published here.