Lavender Tea Benefits, Uses, and More | Fullscript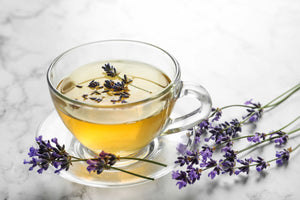 Whether black, green, or herbal, tea is one of the most widely-consumed beverages worldwide. Steeped in history and health benefits, tea drinking has been perceived as a health-promoting habit since ancient times. (5) Both affordable and accessible, lavender tea is made by steeping the plant's purple buds in boiling water. Along with being a refreshing beverage, lavender tea may provide a variety of health benefits, such as improving mood and sleep quality. (11)
Keep reading below to discover three benefits of adding lavender tea to your daily routine. 
3 benefits of lavender tea
Lavender has been used as a therapeutic remedy for centuries for a variety of ailments such as burns, insect bites, and restlessness. (1) Lavender grows in many climates worldwide and is native to countries surrounding the Mediterranean Sea, Eastern Africa, the Middle East, and Southwest Asia. This commonly recommended medicinal herb includes more than 30 species and hybridized versions. (6)(12)
Lavender is often consumed in foods and beverages, extracted as an essential oil and used for aromatherapy, or consumed in a tincture or capsule. (6)(7) Although lavender can be used in many ways, brewed lavender tea may promote restful sleep, reduce anxiety, and relieve menstrual cramps. (6)(8)(10) 
1. Lavender tea for sleep
Lavender has long been used as a sleep remedy. Even the smell of lavender can help promote a night of restful sleep. (4)(8) With poor sleep quality affecting such a large percentage of the population, lavender's effects on sleep quality has been studied in various populations. (3)(8) 
Studies conducted on college students struggling with sleep suggest that when lavender aromatherapy is combined with proper sleep hygiene, such as avoiding devices before bedtime, it can be an effective way to improve overall sleep quality. (8) Another study investigating the effects of lavender tea during the postpartum period (after childbirth) suggested that the consumption of lavender tea may reduce fatigue in sleep-deprived postpartum females. (3) 
2. Lavender tea for anxiety
Research has shown that lavender contains compounds that possess both neuroprotective (protects the nervous system) and antioxidant activity, supporting the nervous system and helping reduce anxiety. (6) With the high prevalence of chronic (long-term) anxiety in the elderly population, a study examined the effects of lavender tea on this population. Researchers found that regularly drinking lavender tea helped stabilize mood and reduce anxiety in individuals 65 years old and older. (2) Although research has primarily focused on older individuals, these findings suggest that lavender tea may be an easy and low-cost option for anxiety relief. 
3. Lavender tea for menstrual cramps
Dysmenorrhea, commonly known as menstrual cramps, affects around 75% of females during their reproductive years. Considering that approximately 7 to 12% of females experience severe pain for one to three days of their menstrual period, researchers have investigated potential complementary remedies for pain relief. (10)
Studies have shown that women who suffer from severe cramping have experienced relief as early as one cycle after using lavender aromatherapy. (10) Although lavender tea hasn't specifically been studied for its effect on menstrual discomfort, tea drinking has been associated with a lower occurrence of menstrual cramps. (13) These findings suggest drinking a cup of lavender tea could have soothing properties. 
How to make lavender tea
Although much of the research supporting the benefits of lavender focuses on aromatherapy, you can purchase lavender in tea bags or as loose leaf tea. Brew the lavender buds by steeping about one to two teaspoons (2–3 g) of lavender per eight-ounce cup (237 mL) of almost-boiling water. Lavender tea should steep covered for at least two to three minutes. (9)
Potential side effects of lavender tea
With any herbal remedy, it's vital to proceed with caution. Be sure to talk to your healthcare practitioner before including lavender in your routine, especially if you have a history of heart conditions, since lavender can potentially influence the nervous system. Although a rare circumstance, it's necessary to note that there is one recorded case of a patient who experienced an abnormal heartbeat after consuming lavender tea. (1) 
The bottom line
Lavender is an aromatic herb that may help promote restful sleep, reduce feelings of anxiety, and soothe menstrual pain. Side effects of drinking lavender tea are rare but may potentially impact the nervous system. To learn more about lavender and its health benefits, consult with your integrative healthcare provider. 
Acikalin, A., Gulen, M., Kara, B., Icme, F., Cagliyan, C. E., & Satar, S. (2012). Anticholinergic syndrome and supraventricular tachycardia caused by lavender tea toxicity. The Keio Journal of Medicine, 61(2), 66–68.
Bazrafshan, M.-R., Jokar, M., Shokrpour, N., & Delam, H. (2020). The effect of lavender herbal tea on the anxiety and depression of the elderly: a randomized clinical trial. Complementary Therapies in Medicine, 50, 102393.
Chen, S.-L., & Chen, C.-H. (2015). Effects of lavender tea on fatigue, depression, and maternal-infant attachment in sleep-disturbed postnatal women. Worldviews on Evidence-Based Nursing / Sigma Theta Tau International, Honor Society of Nursing, 12(6), 370–379.
Hirokawa, K., Nishimoto, T., & Taniguchi, T. (2012). Effects of lavender aroma on sleep quality in healthy Japanese students. Perceptual and Motor Skills, 114(1), 111–122.
Khan, N., & Mukhtar, H. (2013). Tea and health: studies in humans. Current Pharmaceutical Design, 19(34), 6141–6147.
Koulivand, P. H., Khaleghi Ghadiri, M., & Gorji, A. (2013). Lavender and the nervous system. Evidence-Based Complementary and Alternative Medicine: eCAM, 2013, 681304.
Lavender. (2019). In LiverTox: Clinical and Research Information on Drug-Induced Liver Injury. National Institute of Diabetes and Digestive and Kidney Diseases.
Lillehei, A. S., Halcón, L. L., Savik, K., & Reis, R. (2015). Effect of inhaled lavender and sleep hygiene on self-reported sleep issues: a randomized controlled trial. Journal of Alternative and Complementary Medicine, 21(7), 430–438.
Matthews, C. M. (2010). Steep your genes in health: drink tea. Proceedings, 23(2), 142–144.
Nikjou, R., Kazemzadeh, R., Rostamnegad, M., Moshfegi, S., Karimollahi, M., & Salehi, H. (2016). The effect of lavender aromatherapy on the pain severity of primary dysmenorrhea: a triple-blind randomized clinical trial. Annals of Medical and Health Sciences Research, 6(4), 211–215.
Poswal, F. S., Russell, G., Mackonochie, M., MacLennan, E., Adukwu, E. C., & Rolfe, V. (2019). Herbal teas and their health benefits: a scoping review. Plant Foods for Human Nutrition, 74(3), 266–276.
Sharma, L., Ajmera, P., & Chandra, M. (2019). Health benefits of lavender (Lavandula angustifolia). International Journal of Physiology, Nutrition and Physical Education. 
Zhang, X., Zhang, R., Chen, D., Huang, R., Tian, Y., Zhang, P., Zhang, J., & Shanghai Birth Cohort. (2019). Association of tea drinking and dysmenorrhoea among reproductive-age women in Shanghai, China (2013-2015): a cross-sectional study. BMJ Open, 9(4), e026643.
This content was originally published here.