Is it Safe to Use Essential Oils While Breastfeeding?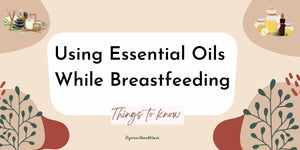 Essential oil, a concentrated hydrophobic liquid extracted from plants, has many uses. When added to a skincare routine, it can help protect the skin from damage such as sunburns, insect bites, and wrinkles. Also, essential oils have been used for holistic healing since ancient times. Based on the plant sources and chemical compounds, several types of essential oils are out there. Among them, lavender, peppermint, lemon, frankincense, and tea tree essential oils are popular among users. But when you are pregnant or breastfeeding, you should be cautious with essential oils. That's because some essential oils are best avoided while breastfeeding, while some can be beneficial.
In this article, we have offered some expert advice for using essential oils while breastfeeding. We have also made it easier for nursing moms by providing additional information on what's safe and what's not while breastfeeding.
Essential Oils for Breastfeeding Moms
While there are many forms of uses, topical use of essential oils is the safest and most recommended for breastfeeding moms. It's important to make sure that young babies are kept away while applying essential oils to the skin.
Even though the application of essential oils is limited for nursing moms, some essential oils offer several key benefits. Experts usually recommend the following types of essential oils for breastfeeding moms.
Since there are a number of essential oils that serve multiple purposes, you should consult with your doctor or midwife to find the right one for you to use while breastfeeding.
A Few More Essential Oils Considered As Safe While Breastfeeding
Here are some more authentic suggestions for you.
Those aromatic plant compounds are likely safe when used topically or aromatically. Also, you can mix a few drops of these oils with the bath water while taking a warm bath to bring some extra freshness. As always, we highly recommend that before using any essential oil, you discuss it with your healthcare provider.
Safety Precautions to Follow
To be on the safer side, you can follow these expert recommendations: 
Essential Oils to Avoid While Breastfeeding
Some essential oils that are not safe to use while breastfeeding include:
Since it's a long list of oils to avoid, it's better to stick to the "okay list" while breastfeeding. When shopping, buy from a trusted brand instead of randomly picking up one. If you're already using an essential oil, please ask your doctor.
This content was originally published here.