How To Make Rosemary Oil For Hair Growth – 100% PURE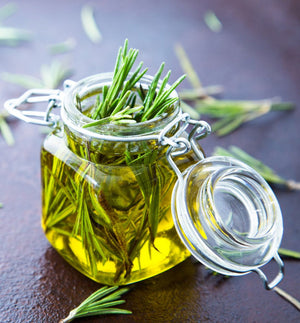 Could the secret to a fuller mane lie in your herb garden? According to scientific research, it's very possible!
Rosemary, known by the latin name Rosmarinus officinalis, or "dew of the sea," is a staple in many forms of cuisine throughout Europe. Typically found in temperate regions with sandy soil, it's been a staple in folk medicine for centuries, and it's believed to have first been used for its therapeutic properties in Ancient Greece. And while rosemary can be applied in a number of ways, it's especially popular in the form of an oil.
Despite its centuries of usage, rosemary oil has actually become quite popular in recent years, as it's been found to hold a number of different benefits.
While you can read more about these benefits here, we're spending today focusing on rosemary oil for a healthier, fuller mane.
In this article, we're going to talk about rosemary oil, its applications, common questions on how to use it, and even how to make your own rosemary oil for hair growth.
How to Prepare Rosemary Oil for Hair Growth
So how do you prepare rosemary for hair growth?
As it turns out, rosemary oil is incredibly versatile, and you can use it in a number of different ways.
However you use rosemary oil for hair growth, though, it's important to do so consistently in order to get any results. Generally, it's recommended to use rosemary oil for hair growth daily for the first six months. After that, you can spread out your usage as needed.
Without further ado, here are some ways in which you can use rosemary oil for hair growth:
Massage Directly Into Your Scalp
Massaging rosemary oil directly into the scalp is not only straightforward, but massaging helps stimulate blood flow, which may help support healthier hair growth.
To massage rosemary oil into your scalp, add 5 drops to the carrier oil of your choice, whether it's argan, coconut, or jojoba. Take the mixture into the shower or bath, and after wetting your hair, massage it into your scalp with your fingertips. Leave the oil to sit for at least 5 minutes before rinsing.
Make a Hair Oil
If you're a fan of using hot oil treatments or oil-based hair masks, incorporating rosemary oil is going to be a snap. We especially recommend nourishing oils like argan, jojoba, or coconut for ultra moisturizing benefits. Simply add 3-5 drops of rosemary oil to your oil treatment to combine, and apply as needed.
Mix It into your Shampoo
If you're looking for a surefire way to use your rosemary oil every day, try adding some to a product you often use. This method can be done with any product that touches your scalp, whether it's shampoo, conditioner, or a scalp serum. Start small by adding just a few drops of oil to your product, and then proceed to use it as usual.
How to Use Rosemary Oil for Hair Growth
While the use of essential oils may often seem like a straightforward process, it comes with its nuances; and naturally, you may have some questions.
Here are some of the most common questions about how to use rosemary oil for hair growth:
Can I put rosemary oil directly on my hair?
In short, yes, but make sure to dilute it. It's important to remember that essential oils are incredibly concentrated, and adding it straight to your hair can cause irritation to your eyes or scalp.
To use rosemary oil for hair growth, add a few drops to a carrier oil or to your product of choice, and avoid getting it into your eyes. If rosemary oil gets into your eyes, promptly rinse out with water.
It's also important that you don't add undiluted rosemary oil directly to your scalp, as it's known to irritate the skin.
How Often Should I Use Rosemary Oil for Hair Growth?
If you're just starting out using rosemary oil for hair growth, it's best to use it daily for six months in order to see results. After six months, you can adapt to a weekly regimen.
How Long Should I Leave Rosemary Oil in My Hair?
When using rosemary oil for hair growth, try keeping it in your hair for 5-10 minutes at a time before rinsing.
Is it Safe to Leave Rosemary Oil in My Hair Overnight?
While leaving rosemary oil in your hair overnight is not dangerous, it may possibly cause some irritation–particularly to those with sensitive skin.
As much remains unknown about rosemary oil's uses for hair growth, it's generally recommended not to use it while pregnant or breastfeeding.
How to Make Homemade Rosemary Oil for Hair Growth
If you're looking for a quality rosemary oil for hair growth, you can find a number of rosemary essential oils for sale online and in-person; keep an eye out for them in your local health food stores.
However, it's also possible to make your own homemade rosemary oil. While essential oils require special equipment and high columns of rosemary, making your own oil infusion is comparably quite simple.
To do so, you'll first need to harvest your own fresh rosemary–enough to pack into a mason jar, Thoroughly rinse and let it completely dry, as any water can increase the potential for spoiling.
Once fully fried, place the rosemary into a jar, filling it to the top, before filling the jar to the brim with your chosen carrier oil until completely submerged.
Seal your jar with a lid that's been lined with waxed paper, and leave it to sit in a sunny spot for about 30 days. Every few days, give the jar a good shake.
After a month of infusion, strain the rosemary oil through some cheesecloth and store in a clean container.
While homemade rosemary oil is easy and affordable, it's important to note that it doesn't have a very long shelf life, especially compared to essential oils. Even when stored in a cool, dry place, your homemade rosemary oil will only last about two months, although you may extend the shelf life to about six months by keeping it in the refrigerator.
This content was originally published here.