Fresh Stems Eucalyptus Baby Blue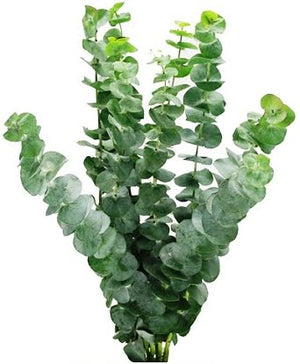 Most widely used for foliage in floral art.  But if you call us now, we can help you in choosing your Eucalyptus. Forms an even smaller, multi-branched evergreen tree than normal. The striking foliage is very popular with floral artists. Good species for the smaller garden plot or grow in an air-pot on your terrace. Greens are available year round*
Product Details
All Baby Eucalyptus, Bulk Greens and Wholesale Filler Flowers will perfectly suit your expectations.
Stem length is 19-21″ Tall
If you don't know which Eucalyptus to choose – you can't go wrong with this one; it is a gold star species.
This species it is grown quite frequently in domestic gardens and also for commercial foliage production, so there is no threat of extinction. Our seed is collected from sustainable sources in Colombia.
It forms a lignotuber, which means it will grow back bushy from the base if cut down by exceptionally cold winters or actively coppiced.
Its striking foliage is very popular with flower arrangers and the more you pick, the bushier the plant becomes, giving you more useful foliage.
Eucalyptus Availability & Care:
Recommended delivery date is 2 days before your event. If your event is Saturday suggested delivery date is Thursday.
Greens are available year round*
Expected vase life is an average of 8 days.
Since Greens are a product of Mother Nature and due to variation in monitor resolutions, the exact color tones of this Green may vary to some degree.
Package contents and prices are based on availability and are subject to change due to weather and market conditions.
Your Greens will arrive looking thirsty and sleepy. This is absolutely NORMAL. Please refer to our Flower Care tab on this product page for a descriptive process on care and handling instructions.
100% Guaranteed.
In the event that a substitution may be necessary to make certain that your bulk flowers are delivered on time, we take the utmost care in assuring that your order is as similar to your original fresh flower choice as possible even if this means substituting flowers of higher value. While we will always try to inform under these circumstances, flower substitutions may be shipped without verbal confirmation from you.
We recommend scheduling these flowers to arrive 2 or 3 days before your event.
Orders for this product must be placed AT LEAST 7 days prior to your desired delivery date. For rush deliveries (less than 7 days lead time), please call us toll-free 1-800-517-3919 as we may be able to accommodate your order. Rush orders are subject to a shipping surcharge.
This content was originally published here.