Experience Iyengar Yoga + Organic Essential Oils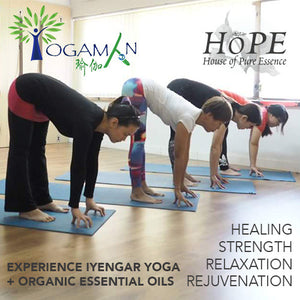 I've been practicing Iyengar Yoga for 3 years now! Time flies! I have an amazing teacher, Kitty (the owner of Yogaman), and she's one of the people who encouraged me to launch consumer products - which resulted to HOPE!
Now, you might be wondering what is Iyengar Yoga. There are so many different styles of yoga, however it all originated from the scripts of Sage Patanjali.
What is IYENGAR YOGA?
Iyengar Yoga is based on our Guruji B.K.S. Iyengar's interpretation of the scripts of Sage Patanjali and one of the most respected yogis of all time.
In Iyengar Yoga, there is focus on the structural alignment of the physical body through the development of asanas. Through the practice of a system of asanas (poses) it aims to unite the body, mind and spirit for health and well-being. The discipline is considered by its practitioners to be a powerful tool to relieve the stresses of modern-day life, in turn helping to promote total physical and spiritual well-being.
Iyengar differs from the other styles of yoga by three key elements: technique, sequence and timing.
The emphasis is given to precision and alignment in all postures
The use of self designed props such as wooden gadgets, belts, ropes helps the practitioner to achieve perfection in all the postures. Props allow elderly, injured, tired, or ill students to enjoy the benefits of the poses requiring less muscular effort.
The aspect of "sequencing". An "Iyengar Yoga" practitioner is aware of the sequence in which different groups of asanas have to be performed.
Unlike more experiential approaches where students are encouraged to independently "find their way" to the asanas by imitating the teacher, an Iyengar Yoga class is highly verbal and precise, with misalignments and errors actively corrected. Iyengar teachers complete at least two years of rigorous training for the introductory certificate. They may complete subsequent intermediate levels and senior levels of certification, potentially entailing a decade or more of training.
Yogaman and HOPE are now teaming up to add a new level to our practice - using organic essential oils to help students to get more focused during the active poses and keep them grounded, especially during restorative and pranayama practice.
Starting May 15, HOPE products will be available in Yogaman.
Yogaman is located at: 13/F, Flat B, Tai Hung Fai Commercial Bldg, 2-8 Tai Cheung Street, Yuen Long.
For enquiries, please see details below:
Tel: (852)3791-2993
E-mail: info@yogaman.com.hk
https://www.facebook.com/yogamanhk/