Essential Oils – A Medicine Cabinet that Smells Good and Promotes Health | La Mirada Birth Photographer & Doula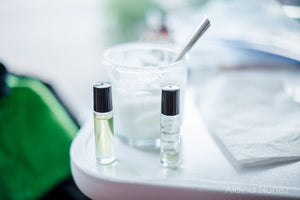 Essential Oils – A Medicine Cabinet that Smells Good and Promotes Health
I've been using essential oils for my family for almost 11 years now. Friends and family will text me asking which oils to use for something specific or if I can make them a roller since I typically have the necessary oils on hand.
Some of my oils knowledge has come by trial and error (quite a bit actually) and a lot of research and reading. There have been times where I reach for the wrong oil or forget I have peppermint on my finger and rub my eye. Yeah… try not to do that. But really, it comes down to knowing what properties the oils have individually and what they can be beneficial for. There are a lot of oils that overlap each other in their uses but because our chemical make-up is so individual sometimes it does take some trial (and error) to figure out what works best for you.
My kids have their own rollers that they use for specific purposes and a couple have even used the oils like an inhaler to open up those airways when they're not at home. That was super helpful for my daughter when she was busy with theatre with all the jumping, kicking, dancing and singing she was doing.
The kids know the oils help support their body and promote healing and I feel it shows them how to listen to their bodies and take responsibility for their personal health.
Our bodies are taxed constantly and there are so many homeopathic and natural things available to us but essential oils are one of those things that can move into the cells of our bodies and like I said, promote healing and homeostasis. 
This is also why it is important to get pure quality oils that are not filled with "fillers" and tested in small batches to make sure they are pure because if the oil has a pollen or pathogen attached to it… we don't need that getting into our cells.
Do you use essential oils? Are you interested in learning more about them? Does it seem overwhelming to you? I'd love to help!
I am a minimalist at heart so I'm not going to recommend 20 different oils if you really only need a handful.
But once you start using oils, you're going to notice the difference.
Can't wait to help you get started on supporting your body from the inside out!
Blessings,
You can also find us on  and !
What would you like to hear more about?
Signup for news and special offers!
Want a Photography Session with Alaina
Homeschooling and Homemaking
Online & In Person Photography Courses
Can't wait to share some exciting things with you!
This content was originally published here.