Easy Sugar Lip Scrub Recipe with Peppermint Essential Oil for Kissable Lips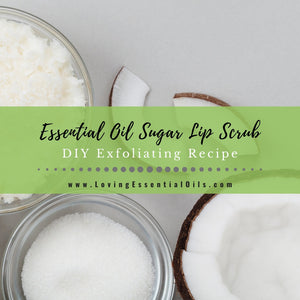 Get lush lips with this simple sugar lip scrub recipe. It takes only a couple minutes to make and sugar scrubs are a perfect way to pamper yourself at home.
The sugar helps exfoliate your lips and will slough off any dead or dry skin.  Exfoliation will promote new, healthy cells and remove the old ones. This will leave you with soft, kissable lips that feel fantastic. 
The benefits of using an essential oil lip scrub are endless:
If you're looking for a way to pamper yourself, try out this DIY recipe today!
Sugar Lip Scrub Ingredients
No need to purchase a sugar lip scrub, our recipe is simple and only calls for 3 ingredients.  Most people will have these ingredients in their home:
You will also need a jar to put the finished product into. 
This sugar lip scrub is a great beginner DIY recipe, even kid friendly. Kids love to help mix and create new things. These ingredients make this a safe recipe for them to make with supervision. Let them pick out the kid safe essential oils (like sweet orange oil) they would like to try. 
Best Essential Oils for Lip Scrub
Our recipe is a peppermint sugar lip scrub but you can substitute it for other essential oils. Here are some great choices for DIY lip scrubs:
Safety Precuation: Lemon oil is a phototoxic essential oil, this may not be a problem since the at home sugar lip scrub will be rinsed off but still good info to be aware of.
Easy Sugar Lip Scrub Recipe
Instructions:
Our recipe also makes a great homemade gift for friends or family. Use a pretty glass jar and place a label or gift tag to make it extra special. Essential oils can be changed as desired for different flavors.
 Tips for Healthy Lips
Where to Buy Essential Oils
Essential oils are great because not only do they make you feel good physically but mentally as well. I love having them around since they have so many benefits like clearing the air of bad odors, improving moods by releasing calming scents in your home or office for instance!
We are frequently asked what essential oil brand we like, here are some of our favorites:
50+ DIY Recipe Guide - Get NOW:
Download our 50 page recipe guide full of wonderful all natural cleaning, personal care and beauty products for your home, PLUS matching bottle labels for each recipe! Just fill in form and click "Get My Recipe Guide" button for FREE access:
This content was originally published here.