Avocado Oil For Hair: How to Use it and Its Benefits for 2023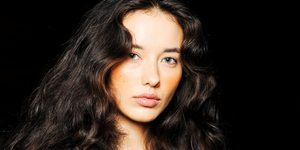 While it may be primarily associated with snacking (hello, guac and avocado toast), avocado—specifically the oil pressed from the fruit's pulp—is an all-star hair care ingredient. Packed with antioxidants, vitamins, and lipids, the oil found in avocados can help bring damaged hair back to life, increase it's shine and softness, and nourish and moisturize your scalp too.
But before you haphazardly slather your hair in the first bottle of avocado oil you can find, it's important to understand how the ingredient works, what it can and can't do for your hair, and the best ways to incorporate it in your routine. So I chatted with trichologist Helen Reavey and hair stylist and colorist Juliana Ohlmeyer to gather all the need-to-know-info. Read on for the basics and to see the four best hair products with avocado oil to try right now.
What does avocado oil do for your hair?
Really, the better question is, what doesn't avocado oil do for your hair? The ingredient is loved by experts for its ability to smooth, soften, and repair the hair. Avocado oil is rich in minerals like potassium and magnesium and vitamins like biotin, all of which help your hair retain moisture, boost shine and elasticity, and prevent breakage and split ends," explains Reavey. "Products with avocado oil can also help to reduce flaking and dryness on the scalp too."
What hair types and textures is avocado oil good for?
Good news: Avocado oil is suitable for pretty much every hair type and texture. It's relatively lightweight, fast-absorbing, and won't create buildup or sit on top of your scalp and strands. Avocado oil is especially great for dry hair types or anyone with thick, curly hair or natural hair since it's ultra-moisturizing, says Reavey.
Can avocado oil stimulate hair growth?
Avocado can't make your hair grow (only minoxidil can do that), but it can help create a healthy environment for optimal hair growth which is still incredibly beneficial if you're looking to grow out your hair or prevent hair loss. "Avocado contains high amount of vitamin E which really protects the scalp and hair to prevent excess shedding," Ohlmeyer says. "It also contains vitamin D which is essential for supporting incoming hair follicles."
Additionally, consuming avocado oil orally (rather than applying it topically or using it in haircare) can help on the hair growth front, since it naturally contains biotin, a vitamin that can stimulate keratin production in hair when ingested.
Can avocado oil get rid of dandruff?
Avocado can help reduce flaking on the scalp that's caused by dryness but it can't get rid of dandruff. In fact, it may actually have the opposite effect. "Dandruff feeds off lipids the on your scalp and avocado oil is high in lipids," says Reavey. "By applying avocado oil on your scalp, you would more than likely exacerbate the condition."
Instead, Reavey says those who are prone to dandruff should look for products that have antifungal properties (like Head and Shoulders Dandruff Shampoo) or contains chemical exfoliants, like salicylic acid, that will balance the scalp's sebum production levels.
How do you use avocado oil in your haircare routine?
There are many ways to incorporate avocado oil into your haircare routine. You can use the pure oil on its own, the entire fruit, or in any number of hair products, says Ohlmeyer. "If you're using pure avocado oil, I recommend applying it scalp to ends, braiding your hair, and leaving it on overnight or for up to two days as a deep treatment." If you want to apply the fruit, mash it up in a bowl, work it through clean, towel-dried hair, and then cover your hair with a cap," Ohlmeyer says. "You want to leave in for about an hour before rinsing it out."
If DIY isn't your thing, there are a ton of conventional hair products—from shampoos to leave-in conditioners—that contains avocado oil. Check out some of our faves, below.
4 top-rated hair products with avocado oil:
Mielle Avocado Moisturizing Hair Milk
The one thing she recommends you never do, however, is apply hot avocado oil to your scalp, as it can burn and damage the hair follicle and cuticle. And for those with color-treated hair, especially blondes, it's a good idea to do a test strand before treating the whole head. "​​This will make sure your hair doesn't absorb the greenish color of avocado oil and leave your colorist with a lot of fixing to do," Ohlmeyer says.
Which is better for hair: avocado or coconut oil?
Despite what the internet says, coconut oil can actually wreak havoc on hair. "I never suggest coconut oil to my clients for their hair," Ohlmeyer says. "The molecules are really not appropriate for hair—the pH blocks moisture from entering your hair so it can end up causing even more dryness and breakage—plus it's a nightmare to get out."
Reavey agrees. "Avocado oil is rich in nourishing fatty acids that penetrate the hair shaft, helping to moisturize your hair from the inside out." On the other hand, coconut oil does does not have the ability to penetrate the hair shaft and only sits on top of the cuticle making your hair feel heavy or overly oily, says Reavey. "Coconut oil can also clog hair follicles, worsening certain scalp conditions and preventing nutrients from being able to penetrate the scalp."
The takeaway:
Whether you use the oil or fruit sitting on your kitchen counter or an over-the-counter deep conditioning treatment that highlights the ingredient, avocado oil can be majorly beneficial for your hair and scalp health. To recap, it can repair and prevent damage, give dry, brittle hair a much needed dose of moisture, and make it easier for your hair to grow longer and stronger. It's one of those multitasking hair oils that truly lives up the hype and can be used by just about everyone.
Meet the experts:
Why trust Cosmopolitan?
Gabby Shacknai is a New York City-based journalist with years of experience researching, writing, and editing beauty and wellness stories. Gabby is an authority in all hair categories, but is an expert when it comes to ingredients for hair, like avocado oil. She works with the industry's top experts to understand how avocado oil for hair works and the best ways to use it.
This content was originally published here.