3 Household Uses For Clove Leaf Oil - N-essentials Pty Ltd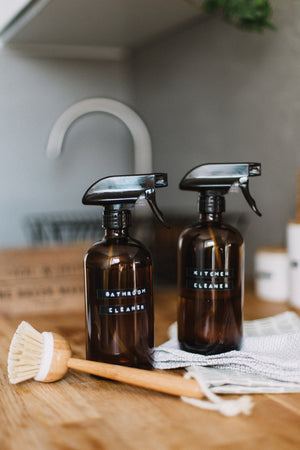 For those who want to lead a healthier, more organic lifestyle, using natural products in your house is the way forward. And essential oils are a great way of making your home more eco-friendly.
Introducing: clove oil! Clove leaf oil is an often overlooked star of home and household maintenance. Read on to discover how clove oil can transform your space.
What is clove oil?
Clove leaf essential oil, also known as Eugenia caryophyllata, is a member of the Myrtaceae family and is frequently referred to as "clove oil" or "oil of clove." It typically grows best in fertile, well-drained soil and is most common in tropical regions. It has gained popularity in a variety of uses, including cosmetics and aromatherapy.
The clove tree's leaves are used to make clove leaf essential oil through the steam distillation process. Its colour ranges from colourless to light yellow, and its consistency is regarded as ordinary. It also has a strong, spicy scent.
Is clove leaf oil the same as clove bud oil?
The main differences between clove oils are whether the oil is extracted from the bud of the plant or the leaf. Both clove bud oil and clove leaf oil are essential oils from the clove plant. At N-Essentials, we provide the highest quality clove leaf and clove bud oils.
The difference in smell between the two is that clove bud oil has a stronger floral scent, while clove leaf oil has a spicier aroma. Their chemical composition also differs slightly. Apart from the differences in their origin, chemical makeup and their aroma, both oils share a variety of benefits for your well-being and home.
What is clove oil used for?
Clove oil has a long history of use in traditional medicine, dating back to ancient China and Indian Ayurvedic practices. Cloves were once used as a form of currency, and clove oil was used as a perfume too. Today, clove oil is still used for its benefits to your skin and to your home. It can be found in many skincare products and its powerful properties can enhance the look of your skin. With its natural properties, clove oil is a great option for nourishing and supporting your skin's external appearance. In addition, clove oil is sometimes used as a massage oil, due to its refreshing aroma and stimulating effect on the skin.
Household uses of clove oil
Essential oils are not only used for your physical appearance. The natural properties of essential oils that are so beneficial to your body can also be extended into the space around you. The same principle applies to clove oil.
Clove oil has a wide range of household uses. It can be used as a disinfectant, an insect repellent, and an air freshener. In addition, clove oil can be used as a massage oil or perfume. Its use in aromatherapy helps to create a refreshing vibe in the space it is in. Read more about the top 3 ways you can include clove oil around the house and why it will be beneficial.
Clove oil in a diffuser and air freshener
Any number of reasons can cause bad smells in the house. Anything from insufficient ventilation to dust, dirt or even your pets. But getting rid of bad smells is easier than ever with clove oil. It can be used with both diffusers and in air fresheners.
With a diffuser, you can add a few drops of clove oil to water and let the fresh, spicy scent work its magic. It can eliminate bad odours and immediately uplift the atmosphere in your home. You can find even an air freshener with clove oil, make a homemade one by mixing 2 cups of distilled water with 5-6 drops of clove oil. To add a little kick to it, you can even mix a few drops of sandalwood or eucalyptus essential oils.
The smell of clove oil can be overpowering, so make sure you don't use more than a few drops in your diffuser or air freshener.
Clove oil for removing mould
Looking for a natural approach to remove and kill mould in your house? Clove oil is a great remedy against mould. It kills the spores instead of just bleaching and hiding them.
When you use a regular bleach or cleaner to remove mould, you are simply removing the spores. That is not enough since the mould will come back as soon as the spores are still present, whether you can see them or not. All the health risks associated with mould, such as allergies and asthma troubles, will still be there with the spores, and it will likely begin to develop once more in a few days. Since clove oil can kill spores, it is a popular and safe method of getting rid of mould.
Clove oil is a natural ingredient. With it, you don't have to worry about the synthetic chemicals that come with bleach or normal cleaners. This is one of the main arguments in favour of utilising clove oil to treat mould. It is safe to use around children and pets. Mould can be a difficult problem to solve and clove oil is one of the most effective mould killers. In most cases, clove oil can eradicate mould in 24 hours. Read more about how to kill mould using clove oil here.
Clove oil as an insect repellent
Spraying clove oil around the house means that you have a strong insect repellent with you. Clove oil offers a natural and eco-friendly alternative to chemical insect repellents. You can spray clove oil in your home and even in your garden to protect it from insects and pests. The strong smell of clove oil is a natural deterrent against insects, who are generally attracted to floral, sweet scents. The best part? The smell of clove oil is quite strong and lasts a long time.
Where can you buy clove oil?
N-Essentials are proudly Australian-owned. We stock pure, natural, and organic products, including pure clove leaf oil. Our products are of the highest quality. If you have any questions about our wide range of essential and carrier oils, don't hesitate to contact us for more information.
This content was originally published here.